water parks
Disney - Blizzard Beach
Where in Florida can you see snow everywhere, but the only ice is in the soft drinks? At Blizzard Beach, of course!
The 66-acre Blizzard Beach water adventure park located in Florida's Walt Disney World Resort is strictly tropical, but the combination of water park with the atmosphere and excitement of a major ski resort in the midst of a tropical lagoon is... well, zany.
As legend has it, Blizzard Beach was created by a freak winter storm which dropped snow over the western side of the Walt Disney World property and Florida's first snow-ski resort was planned immediately.
However, the plan was short-lived. Temperatures soared and the ice and snow rapidly began to melt. Dismayed ski-resort operators, ready to close, spotted a playful alligator sliding down the "liquid ice" slopes and realized the melting snow created the tallest, fastest and most exhilarating water-filled ski and toboggan runs in the world.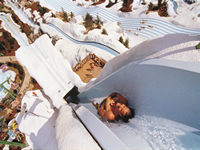 As a result, the ski resort/water adventure park was born. It is located just north of Disney's All-Star Resorts.
As guests enter the park, they are greeted by the busy view of "skiers" sliding down the face of the 90-foot snow-capped mountain, Mt. Gushmore. It is home to the newest waterslide, Downhill Double Dipper, the only side-by-side racing water slides that stand 50 feet high and 200 feet long. Guests will travel up to 25 mph, twisting and turning before shooting out through a curtain of water. Mt. Gushmore also features slalom courses, toboggan and water sled runs and the awesome, 120-foot-high Summit Plummet – the nation's tallest, fastest free-fall speed slide, visible from almost anywhere in the park.
Mt. Gushmore's other attractions include:
Teamboat Springs- the world's longest family white-water raft ride takes six-passenger rafts down a twisting 1,200 foot series of rushing water falls.
Toboggan Racer- an 8-lane water slide that sends guests racing over exhilarating dips as they descend the "snowy" slope.
Snow Stormers- three flumes descending from the top of the mountain and following a switchback course through ski-type slalom gates.
Runoff Rapids- an inner tube run, where guests can careen down three different twisting, turning flumes.
Chair Lift- wooden-bench chair lifts sporting colorful overhead umbrellas and snow skis on their underside, converted from ski-resort to beach-resort use. These functional chairs carry guests over the craggy face of Mt. Gushmore, from its base at the beach, to its summit.
The sandy beach below Mt. Gushmore offers a large wave pool, a lazy river, two snack bars, a polar pub lodge and a pre-teen and children's play area. Among its adventures:
Tike's Peak- a kid-size version of Blizzard Beach, including scaled-down elements of Mt. Gushmore. In addition, this area features a snow-castle fountain play area.
Melt-Away Bay- a one-acre pool, nestled against the base of Mt. Gushmore, that is constantly fed by "melting snow" waterfalls
Cross Country Creek- a lazy creek circling the entire park, carrying floating guests through a bone-chilling ice cave. Once inside the mysterious cave, guests will be splashed with the "melting" ice from overhead.
Blizzard Beach Ski Patrol Training Camp- designed for pre-teens with a T-bar drop, culvert slides and a challenging ice-flow walk along slippery, floating icebergs. Cool Runners is the camp's twin inner tube slide.
Avalunch and The Warming Hut- snack bars.
The Village at the Blizzard Beach entrance houses guest services such as a tube pick-up area, towel rentals, lockers, first aid, merchandise and a restaurant.
Within the Village is the Beach Haus, a specialty shop offering souvenirs, towels, bathing suits, sunglasses and other essentials for a day on the slopes... err, in the water. Ski equipment and cold weather furnishings such as pot-belly stoves are used to display merchandise.
Disney- Typhoon Lagoon
This 56-acre water park would most likely be the choice of FISH if they could choose an amusement park, as Typhoon Lagoon features some of the wettest and wildest attractions at Walt Disney World. Before Blizzard Beach opened, Typhoon Lagoon was the largest water park on property. It is still immensely popular, with its twisting tides, roaring rapids, wonderful waterways and relaxing rivers.
Typhoon Lagoon also features a special area where guests can snorkel among live sharks and other tropical fish. Excluding the snorkeling area, all water is heated to a toasty 75-80 degrees year-round.

Attractions

Castaway Creek - This 2100-foot continuous river raft ride lets guests aboard inner tubes meander through rain forests, caves, open grottos, waterfalls and a waterworks area. Children must be accompanied by an adult.

Gangplank Falls - Huge inner tubes holding four guests careen down rapids and through special water effects and rock formations on this 300-foot family raft ride.

Humunga Kowabunga - Travel at speeds up to 30 mph as you are whisked down one of the triple enclosed slides and through caves on this 214-foot ride. Must be 48 inches to ride.

Keel Haul Falls - Hop aboard your inner tube and slide down one of the "soft foam" slides, passing through caves, waterfalls and special effects along the way.

"Crush "N" Gusher" " - Themed around an abandoned and decaying tropical fruit processing center, this thrill ride is unique to North America.
Guests ride in two person rafts, choosing between three different slides that range from 410 to 420 feet long, the Banana Blaster, Coconut Crusher or Pineapple Plunger. Each section propels you through twists and turns, tunnels and spillways as you slip and slide towards the final thrilling plunge into Hideaway Bay. You'll encounter water jets that will push you backwards while careening down this wild waterway. HEIGHT RESTRICTION: 48 Inches
Fun Facts:
Each slide averages over 400 feet
One slide can fill a regular home pool in a minute
The Crush 'n' Gusher can fill the 2.7 million gallon wave pool in about 3 hours
The water jets put out 1350 gallons a minute
In addition to the "water coaster" there is an expanded beach area and wading pools at Hideaway Bay.
This new section of Typhoon Lagoon is located adjacent to the Shark Reef attraction.
Ketchakiddee Creek - This children's play area features ten different activity areas with slides, floating boats, music and ball fountains, waterfalls and squirting animals. Designed just for children under 48 inches tall.
Mayday Falls - Similar to Keel Haul Falls, travel down the "soft foam" slides and enjoy the scenery along the way.
Shark Reef - This coral-reef environment features an observation area, both above and under the water. This is your chance to snorkel with live sharks and other tropical fish. Equipment is available at no fee at Hammer Head Fred's Dive Shop. Guests may also use their own snorkeling equipment (tempered glass mask only, NO fins allowed). Life jackets are available at High and Dry Towel Rental (must leave driver's license for deposit).
Storm Slides - This series of body slides propels guests through caves, waterfalls, geysers and features a 36-foot drop into bubbling pools.
Wave Pools - Surfs up at this body-surfing wave pool with waves up to six feet tall. A continuous two-hour cycle begins when the park opens (subject to change) and features 90 minutes of surf waves, five minutes of calm, ten minutes of bobbing waves, five minutes of calm, ten minutes of bobbing waves and finally ten minutes of calm.
Wet & Wild
How do you keep tiny tots and testy teenagers happy on a hot day? Take them to Wet 'n Wild Orlando! Tiny tots love the elaborate Kids' Park featuring kid-sized versions of the parks most popular adult rides including the Surf Lagoon wave pool.
Teenagers love it all! And what about parents? They'll find it the best place to be a kid again! But if slippery flume rides and water adventure isn't your style, don't worry. Instead, you can enjoy a leisurely trip under the sun down the Lazy River, a gently moving stream, or simply hang out under an umbrella and enjoy a cold drink.
Best of all, Wet 'n Wild, Orlando's most exciting water park, is open year-round (with pools heated seasonally) and it is centrally located in Orlando's International Drive area among a host of hotels and other attractions. It is just a short drive from Walt Disney World Resort, SeaWorld Orlando, and Universal Orlando.
In 2003 the popular water park introduced The Blast! This unique two-passenger tube thrill ride experience is sure to leave riders completely soaked. Blasting water thrills, colorful icons and fun sound effects stimulate the riders' senses on this unpredictable journey through twists and turns that lead up to a final waterfall plunge.
The new water thrill ride adventure is an excellent addition to the already established collection of world-class rides and signature slides located within Wet 'n Wild:
Black Hole
Board a two-person raft for a 500-foot, twisting, turning, space-themed ride through darkness propelled by a 1,000 gallon-a-minute.
Blue Niagara
Discover the excitement of this slide as you race, turn and splash through one of two 300-foot-long water tubes that twist from six stories above the park.
Bomb Bay
Enter a bomb-like capsule and feel the floor drop from beneath you as you take a heart-stopping plunge down a 76-foot high, nearly vertical slide.
Bubba Tub
A six-story, triple-dip slide with a tube big enough for the entire family!
Bubble Up
A large, wet, inflated bubble made just for kids who climb, bounce and slide down into three feet of water.
Der Stuka
This six-story speed slide lets you "free fall" down a 250-foot slide, then glide to a stop along a 115-foot water runway.
Hydra Fighter
The first-ever interactive water ride! Guests seated in back-to-back chairs equipped with water cannons control the water pressure that will launch them into the air and send them twisting and turning throughout the ride!
Lazy River
A gently moving stream takes you on a leisurely trip under the sun.
Mach 5
Choose from three different flumes totaling 1,700 feet that twist and turn over different thrill courses ending in an abrupt splash.
Surf Lagoon
Four-foot-high waves roll across this 17,000 square foot wave pool which features a waterfall that splashes off the back wall.
The Flyer
A four-passenger, in-line toboggan adventure ride through 450-feet of thrilling, banked curves!
The Storm
Reach maximum speed as you drop from an elevated chute into a giant open bowl where you spin in circles to a splash landing!
The Surge
Experience this exhilarating, five-passenger tube ride down five stories through almost 600 feet of twisting, turning, banked curves!
In addition, Wet 'n Wild brings you Wake Zone. A unique area open from May through September, noon to dusk.
Knee Ski
A cable-operated ski lets you kneeboard like a pro around a half-mile long lake.
The Wild One
Two people are simultaneously towed around the lake on big, bouncy tubes for one "wild" ride. (Nominal fee)
Wakeboard
One of the fastest growing water sports is now at Wet 'n Wild! Beginners to experts can show off their techniques on the Wake Zone cableway.
Aquatica
Location
Aquatica is located just across the street from SeaWorld on International Drive off the Bee Line Expressway (FL 528), 10 minutes south of downtown Orlando and 15 minutes from Orlando International Airport.and
Physical Address
5800 Water Play Way
Orlando, FL 32821
Admission Prices 2008
All children must be accompanied by an adult.
Adult - $38.95 plus tax
Children ages 3-9 - $32.95 plus tax
Children ages 2 and younger - Free
Park Hours
Aquatica will open year round at 10 a.m. daily; 9 a.m. during peak seasons. Tollbooths open one hour prior to park open. Closing hours vary by season. Aquatica will be closed select Mondays and Tuesday in November and December.
Buy Aquatica tickets online or in advance and enjoy an Hour-Early Exclusive on Saturdays and Sundays now through the end of summer. Start your Aquatica fun an hour earlier than everyone else!
Park Hours for April 2008
9 a.m. to 7 p.m. April 1 - April 2
9 a.m. to 5 p.m. April 3
9 a.m. to 7 p.m. April 4 - April 6
10 a.m. to 6 p.m. April 7 - April 21
10 a.m. to 5 p.m. April 22
10 a.m. to 6 p.m. April 23 - April 30


Parking
Car or camper $10
RV $12
Preferred $15
Pass Member Preferred $7
Guests visiting SeaWorld, Discovery Cove, or Aquatica in the same day pay parking only once.
Amenities
Dining facilities throughout the park offer a variety of delights



Aquatica has several different dining options including an all-you-can-eat restaurant and healthy alternatives.



Gift shops feature a wide selection of brand-name sportswear, beachwear and other andquot;must-haveandquot; summer items.


Beach and picnic areas


Showers, changing areas, and nursing mother's station


A one-time locker fee gives you a full days worth of unlimited access. Small lockers are $8 and large lockers are $10 per day.


Beach towels can be rented for the entire day for a $4.00 deposit each, with $2.00 refundable on return. Towels can also be purchased at any of our shops throughout the park.


Life vests can be checked out free of charge throughout the park.
Private Cabana Rental
A private cabana is the best way to take in all Aquatica has to offer. Your cabana is reserved exclusively for you for the entire day, until the park closes. Cabana rentals include a refrigerator stocked with a variety of sodas, juice, and water (16 beverages per cabana) as well as complimentary use of towels and lockers.
While a security member is always present in the park, locker usage is recommended. Snacks and dining options are separate.

As cabanas provide the comfort of a shaded, sheltered environment, guests are welcome to move seating outside of the cabana to soak up some of the warm Florida sun.


Smoking Policy
For the comfort and safety of all of our guests, smoking is permitted in the park in designated smoking areas only. These designated areas are conveniently located throughout the park and are clearly marked on park maps.
Water Safety
More then 100 certified lifeguards supervise water attractions and activities
A first-aid station staffed by emergency medical technicians and a registered nurse
Water Temperature
At Aquatica, the water is as warm as the South Seas themselves--actually, warmer. We have a state-of-the-art climate control system that adjusts the water temperature according to the weather so that its always just right. The water can be heated up to 84 degrees.
Coolers
No coolers are permitted at Aquatica. Glass and alcoholic beverages are not permitted to enter the park. Guests with coolers may enjoy unlimited access to our picnic pavilion located outside the entrance.
Handicap Accessibility
Aquatica is committed to providing a comfortable experience for all of our guests. The wave pool beaches are sand; however, the remainder of the park has paved pathways. All rivers and family attractions have beach entries (no steps). The park has five attractions designed with towers that do require stair climbing. The stairs are accessible by current ADA guidelines. Wheelchairs will be available for rental (first-come, first-served). Guests may reserve wheelchairs on-line prior to their visit.
Height Requirements
Taumata Racer:
Guests must be at least 42" tall and wear a life vest. All guests under 48" are required to wear a life vest.

Tassies Twisters and Whanau Way:
Guests must be able to maintain proper riding position holding on to both handles unassisted.
Walhalla Wave andamp; HooRoo Run:
Guests under 48" are required to wear life vest and guests must be 42" to ride.
Dolphin Plunge:
Guests must be at least 48" tall.
Roas Rapids:
Guests under 51" are required to wear a life vest.
Loggerhead Lane
Guests under 48" are required to wear a life vest.
Katas Kookaburra Cove
Rides in this area require guests to be no taller than 48"